The Moving Traffic Penalty Charge Notice (PCN) Dashboard contains details of all moving traffic PCNs issued in the London Borough of Barnet since 9 February 2016. Analysis of issued PCNs can be carried out by filtering the following fields;
Day of the week
Year
Issue Date of PCN
Controlled Parking Zone
Contravention code
Street name
Issue time
Hours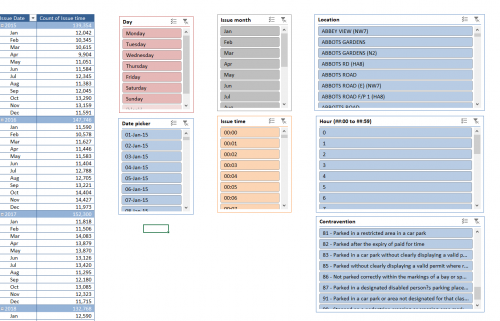 Users can select the criteria by which to filter their search within each section. In some cases, selecting an option in one field may limit the options remaining available in other fields.
To see the raw data behind each line in the table on the left, double-click in the field containing the relevant figure.
We have also provided the raw data used to build the dashboard as a machine-readable csv file.
About this dataset
| | |
| --- | --- |
| Last Update | Created 5 years ago, updated 13 days ago |
| Licence | UK Open Government Licence (OGL v3) |
| Update Frequency | Monthly |
| Next Update Due | 1st September 2022 |
| Next Review Date | 1st September 2022 |
| Contact | Barnet Open Data Team |
| Retention Period | 6 years |
| Service Area | Parking Services |
| Unit | Commissioning |